Best Bird Feeders For Robins 
Whether you're a novice bird watcher or an experienced birder, you likely want to attract robins to your backyard.
Robins are one of the most common and easily recognized birds in North America, and they're known for their characteristic song.
The best way to attract robins is by providing them with a feeder that meets their dietary needs. Read more to know about the best bird feeders for Robins. 
Bird feeders also provide birds with a way to find food when natural food sources are scarce. They can also help birds learn to recognize the area around your home as a place where they can find food.
Feeders also provide birds with a source of fresh water, and they can be a great way to get kids interested in bird watching.
Best Bird Feeders For Robins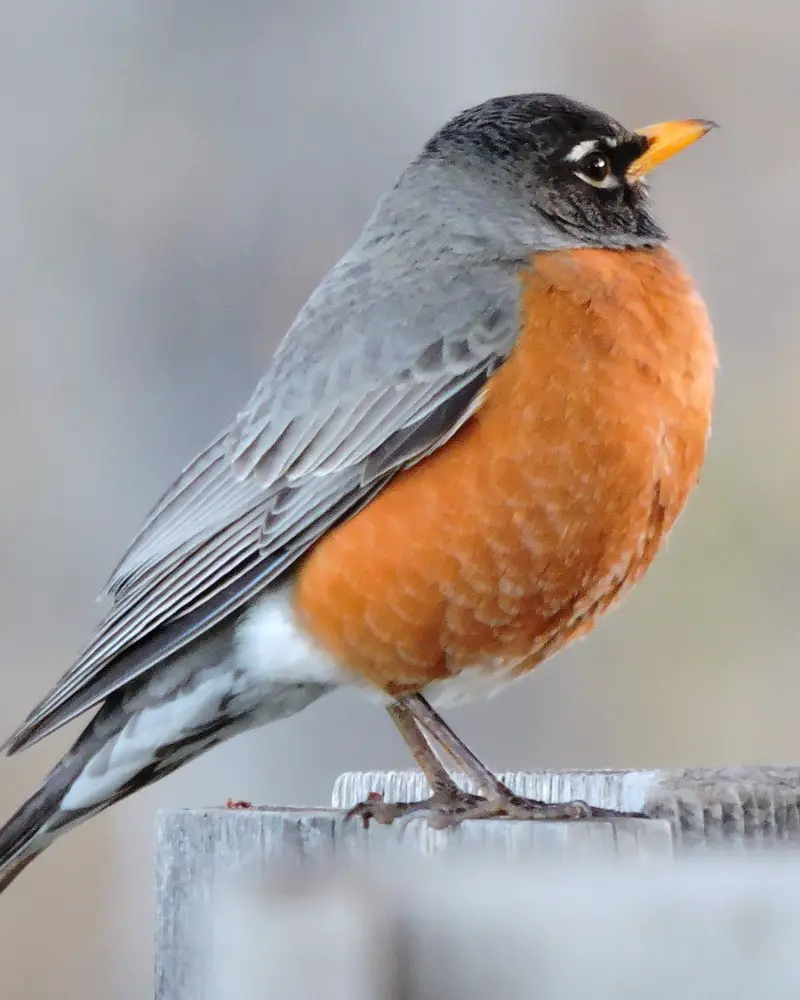 Attracting robins to your backyard is easy if you provide them with a suitable feeder. The best bird feeders for robins are those that offer various food options, including seeds, berries, and insects.
By providing a variety of food choices, you can ensure that the robins in your backyard will have access to the nutrients they need to thrive.
Woodlink 3 in 1 Platform Bird Feeder
The Woodlink 3 in 1 Platform Bird Feeder is a great choice for bird enthusiasts looking for a durable and functional feeder.
The feeder is constructed of red cedar, making it sturdy and long-lasting. The powder-coated metal screen bottom allows drainage and is also removable, making it easy to clean.
The feeder can hold up to 3-pound of mixed seed.
This means you can attract a lot of robins because when a bird sees food, it rushes to get it. If we talk of the quality, it is made in the USA, so we expect it to be a full-time tested product.
Nature's Way Bird Products Cedar Platform Tray Bird Feeder
The Nature's Way Cedar Platform Tray Bird Feeder is one of the most versatile feeder styles available.
This large feeder provides ample space for your feathered friends to enjoy a meal.
The tray is made up of premium cedar, making it durable and weather-resistant.
Keeping the weather in view, It included the rust-free hardware ensuring years of trouble-free use.
Additionally, the seed tray encourages water drainage to keep the seed fresh and dry.
The company also knows the importance of your time. Hence it includes a removable tray to clean efficiently, saving a lot of your time.
JOSANLO Ground and Hanging Bird Feeder Tray
This versatile and easy-to-use feeder can be hung, used on the ground, or attached to a patio handrail. It features reusable nylon ties for secure attachment.
The company has developed a design that prevents seeds from spilling on your lawn, deck, or garden.
The feeder tray is also easy to clean, making it an excellent option for bird enthusiasts of all experience levels.
See fun Hanging Bird Bath for Outdoors Glass Bowl Feeder for Garden, Patio and Yard, Flower.
The See fun Hanging Bird Bath is not only beautiful but also functional. The delicate design can be used as a decoration for any garden.
At the same time, the shallow edges and rust-proof construction make it an ideal choice for birdbaths.
The bird feeder has an S-shape hook making it very convenient to mount.
It provides a sturdy way to hang the birdbath. Due to glass, it is a very easy-to-clean surface, so you won't have to spend hours scrubbing it clean. 
It is also lightweight and easy to move, so you can change its location in your garden at any time, making it one of the best bird feeders for robins.
MUMTOP Hanging Bird Bath Outdoor Glass Bird Baths Sunflower Bird Feeder
The Mumtop Hanging Bird Bath and Bird Feeder is an excellent way to add a touch of beauty to your backyard while providing a place to drink and bathe.
The bird bath is made of high-quality glass and hangs from a durable steel chain. It features an attractive sunflower pattern and is weather-resistant so that you can enjoy it for the seasons.
Solution4 Patio Homes Garden Platform Bird Feeder
The Solution4 Patio Homes Garden Platform Bird Feeder is perfect for those who love spending time outdoors surrounded by beautiful wildlife.
This feeder is easy for birds to access and has plenty of room for a variety, making it a great choice for bird enthusiasts of all interest levels.
The mesh bottom promotes drainage and keeps seeds dry and fresh, while the powder-coated coating prevents rust and offers a long-lasting shine.
The maximum load for this feeder is 10 pounds, making it durable and ideal for larger groups of birds.
Plus, it comes with a 3-year warranty so that you can be confident in its quality, or just in case something goes wrong with the product, you can always claim its warranty.
Hanging Bird Bath Bird Feeder, 2-in-1
The Hanging Bird Bath Bird Feeder is a 2-in-1 wild bird feeder with a large capacity. It can hold up to 4 lb of seeds.
The platform bird bath tray allows birds to drink and bath simultaneously.
The water bowl is made of high-quality Polypropylene that can resist weathering. The metal stand is also powder-coated to prevent rust and corrosion.
This bird feeder is easy to assemble and comes with a hanging chain and hook for effortless installation.
It's the perfect way to attract birds to your garden and enjoy their company.
The bird seed catcher tray protects your lawns and prevents bird seeds from falling to the ground. 
This feeder is a great way to attract more birds to your yard and provide them with a place to drink, bathe, and eat.
How To Choose Feeders For Robins?
Robins are among the most popular backyard birds. Many bird enthusiasts go to great lengths to attract them to their yards. One key element in attracting robins is choosing the right type of feeder. There are a few things you need to take into consideration.
The most important factor is size; the feeder should be big enough that the robins can fit their beaks in and reach the food.
It's important to make sure the feeder is stable, as robins are known to perch on top of them.
The tray of the feeder should be shallow and wide so that the robins can easily access the food.
It should also have a rough surface, as Robins like to grip the edges of the tray while they eat.
Robins are attracted to bright colors, so consider a feeder that's brightly colored or has a built-in light.
What Is The Best Food To Feed Robins?
The best food to feed Robins is a diet of insects, seeds, and berries. This type of diet is high in protein and other nutrients that help keep the birds healthy and thriving.
Robins are particularly fond of earthworms, which are plentiful in most backyards. Offer your local Robins a dish of fresh water as well to help them stay hydrated.
Robins are one of the most common backyard birds and one of the easiest to attract. In fact, many homeowners find that they don't need to do much more than put out a bowl of water and wait for these cheerful little birds to show up.
It's also essential to make sure that your bird feeders are clean and free of mold or other contaminants. You can enjoy watching these beautiful birds up close all year long by providing a safe and nutritious feeding area.
Where Do You Place A Robin Feeder?
Most people know that robins are attracted to areas with insects, so many people assume that the best place to put a robin feeder is in an open field.
However, this is not always the case. While robins will undoubtedly visit a feeder in an open area, they are just as likely to visit one near trees or shrubs.
The key is finding a location with dense vegetation and open space. This way, the robins can find plenty of insects to eat while also having a clear view of the feeder. In addition, it is vital to ensure that the feeder is placed at least five feet off the ground.
This will help to keep squirrels and other animals from getting to the food. By following these simple tips, you can ensure that your robin feeder will be a success.
Final Words
Many use bird feeders to bring feathered friends into their yards and gardens. But there's more to a bird feeder than just a place for birds to eat. The design of a bird feeder can be just as important as its function.
A well-designed bird feeder can be a beautiful addition to your yard and provide the birds with the shelter and protection they need.
The best bird feeders for robins are durable materials that will withstand the elements and last for years. They should have a shape that makes it easy for birds to access the food. Moreover, something that is easy to mount, whether on the ground or a tree.
When you invest in a quality bird feeder, you're providing a place for birds to eat and adding a touch of beauty to your backyard.
Interesting articles: