Best Budget Binoculars For Birding
If you're an avid bird-watcher, having the right set of binoculars can make all the difference. Not only do quality optics bring distant birds into clear view, but they also add to the overall experience of your hobby.
The good news is that you don't have to break the bank in order to get a reliable and feature-packed pair; budget models are available that provide excellent performance for a fraction of the price.
In this blog post, I'll look at some of the best budget binoculars for birding and discuss what features are important when selecting a pair. Read on if you want to find out which ones will be worth their investment!
How to select binoculars
Selecting binoculars can be a complex task, but with the right approach, it can also be a fun and rewarding experience.
Knowing the basics of binoculars, such as lenses, prisms, magnifications, and field of view, will help you choose the best pair for your needs.
You may also want to consider other factors like weight, shell material, and type of eyecups. Doing research on recommended brands and models is always a good idea when choosing any type of equipment.
Whether you are buying your first pair or upgrading for better performance, making sure you find quality binoculars within your budget can make a huge difference in your viewing experience.
What do the numbers on binoculars mean?
Knowing what the numbers on binoculars represent can be confusing, but understanding them will help you make an informed decision when shopping for binoculars.
The first number is the magnifying power of your binoculars, which is usually between 6-10x.
This means the object being viewed will appear 6-10 times larger than normal through the lenses.
The second number refers to the diameter size of the aperture of each lens in millimeters, or "mm" for short. A larger aperture size allows more light to come in, resulting in a brighter image that appears sharper and clearer to your eyes.
To sum it up, if you want a stronger magnification but compromise on reduced brightness and clarity, then opt for a greater magnifying power; likewise, if you want clear and bright images with slightly lower magnification, choose a higher second number instead. With this knowledge, choosing your next pair of binoculars becomes so much easier.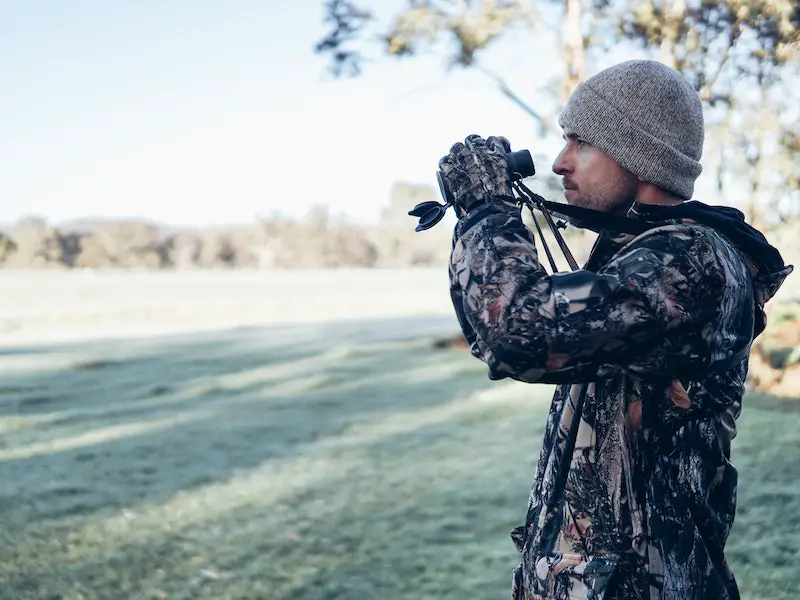 How much zoom should birding binoculars have?
Birding binoculars are essential for bird-watching, and how much zoom to go for is a very important feature in making sure that you get the most out of your bird-watching experience.
The general rule of thumb is to get a set with at least 8x magnification or even 10x if you can afford it. Higher magnifications will provide you with a closer view so that you can spot even small birds in the distance.
However, higher magnifications also reduce the field of vision and stability, so this balance needs to be taken into consideration when making your decision.
Ultimately, what kind of binoculars should be chosen depends on individual preferences, budget, and the types of birds you are likely to encounter in your favorite spots.
How large an objective lens should birding binoculars have?
When purchasing birding binoculars, one of the most important factors to consider is the size of the objective lens.
This lens determines how much light enters through the binoculars, which directly affects image quality and brightness.
A good quality pair of binoculars will have an objective lens that is large enough to provide a clear and bright image but not so large that they become too heavy and cumbersome to use.
As a general rule of thumb, you want your objective lens size to be around 40–50 millimeters for birding binoculars; larger if you plan on using them in low-light conditions and lower if you're mainly using them during the day. Keep in mind that all other factors, such as magnification, should also be considered when selecting binoculars for bird watching.
Best Cheap Binoculars Under $50
If you are looking for an inexpensive set of binoculars that won't break the bank, then look no further than those under $50.
Whether you are a bird-watcher, an outdoor enthusiast, or someone who needs a pair of binoculars for work or school-related purposes, these binoculars fit the bill and won't put a dent in your pocketbook.
You'll get great features such as large-diameter objective lenses, wide fields of view, multiple coatings, and good light-gathering capabilities that allow you to see clearly even in low-light situations.
While expensive pairs may offer additional features, these cheap models offer plenty of value and will easily accommodate your needs without causing financial stress.
Celestron UpClose G2 Binoculars
Enjoy a clear, natural view of the world with Celestron UpClose G2 Binoculars. Featuring 40 millimeters of objective lens diameter and 8x magnification maximum, these binoculars offer excellent performance with each use.
Owning superior American optics engineering, they feature multi-coated BK-7 prism glass that increases light transmission for brighter and sharper views.
Perfect for bird watching, sports events, nature spots, travel locations, and more, you'll appreciate their water-resistant construction and included carrying case.
Also featured are objective covers, eyepiece covers, lens cloth, and an instruction manual everything you need is included with your investment.
With their rubber material and black coloring design, Celestron UpClose G2 binoculars combine top engineering features while providing economic price points. Enhance your view of the world today.
Pros
Celestron UpClose G2 Binoculars are an excellent choice for easy at-home viewing of faraway animals, landscapes, and other wonders.
The 10x magnification allows for close-up viewing over long distances, while the multi-coated optics reduce glare and provide a sharp image in virtually any lighting condition.
These binoculars are also lightweight and portable. They only weigh around half a kilogram, making them perfect for taking on extended hikes and road trips.
On top of all of this, Celestron UpClose G2 binoculars come with a limited lifetime warranty with free 24/7 technical support from experienced professionals who can answer your questions or handle repairs as needed.
Cons
Celestron's UpClose G2 Binoculars are designed to provide clear views of distant or detailed objects, but they do have some drawbacks.
It only has one power setting – 8×21, meaning that the user will not be able to adjust the optics depending on the conditions.
As a result, it may be difficult to find a more specific focus range that suits what you're looking for. Furthermore, this product is not waterproof, making it unsuitable for use in damp weather.
Finally, as relatively cheaper binoculars, the build quality does lack compared to higher-end models. Altogether, if you are looking for an exceptional viewing experience or want something hardwearing and long-lasting, this might not be right for you.
Best Cheap Binoculars Under $100
Binoculars can be a great way to experience the world around you, but they don't have to break the bank. Thankfully, there is a wide variety of binoculars on the market that are surprisingly affordable.
While most would assume that quality and price go hand in hand, some of the best cheap binoculars under $100 can offer amazing image clarity, comfort, and durability. With so many options available, there's sure to be one that fits your needs and budget.
Before making a purchase, researching reviews can help narrow down your choices while ensuring you get top-notch optics without breaking the bank.
Nikon Aculon Binoculars
The Nikon Aculon binoculars bring a powerful 8x magnification to every experience from birdwatching and nature walks to concerts and sporting events.
The lightweight design, stylish black color, and ergonomic grip make them easy to use for long-term comfort, even for adults.
Crafted with Aspherical Multicoated Eco-Glass lenses, these binoculars will deliver bright and clear images in all sorts of lighting conditions.
Equipped with a smooth central focus knob, these Nikon Aculon binoculars are simple to operate and provide an easy one-handed focus for added convenience.
On top of that, the durable rubber-armored coating ensures a secure grip in wet or dry conditions. With this Nikon's Aculon binoculars, you'll get sharp distance views no matter what your adventure may be.
Pros
Nikon Aculon binoculars offer a plethora of advantages for nature lovers and outdoors enthusiasts. From their lightweight design to the high-resolution optics, they give outstanding performance in any situation.
With their multi-coated optics technology, they provide superior light transmission and brightness even in low-light conditions, making them perfect for early mornings or evenings when trying to observe wildlife.
Moreover, they also feature superior sound reduction levels, meaning both birds and other wildlife won't hear you coming!
And with easy adjustability and a secure central focus knob, quickly finding the desired image will be easier than ever. All in all, Nikon Aculon binoculars are the ideal choice for any outdoor adventure.
Cons
Nikon Aculon binoculars might appear to be a great piece of equipment for observing nature, but the truth is that they do have some drawbacks.
One of the most notable cons is the fact that their heavy weight, upwards of 41.3 ounces, makes them difficult to carry around for prolonged viewing sessions.
Additionally, there are reports that people have experienced headaches as a side effect of using these binoculars due to an insufficiently wide field of view; when looking through them, this can cause eye strain and feelings of discomfort if they are used too extensively.
These binoculars also work best in bright conditions, so they can often be rendered useless in dimly-lit situations. When weighing the pros and cons, it's important to consider these shortcomings before making a purchase decision.
Best Cheap Binoculars Under $150
Finding the perfect pair of binoculars for outdoor activities can be a challenge, especially when trying to stay within a budget.
Luckily, there are several great options out there that won't put too much strain on your wallet. If you're looking for quality and affordability, then the best cheap binoculars under $150 should be seriously considered.
With features such as waterproofing, fog proofing, and crisp views due to their improved optical quality, these binoculars deliver both excellent results and exceptional value.
As an added bonus, some models even come fully equipped with carrying cases, straps, and polishing clothes so you can get the most use out of them.
So if you're looking to maximize your viewing experience while keeping costs down, the search for great performing binoculars is over. Make one of these innovative models yours today!
Celestron Nature DX
Get the perfect view at a great value with Celestron Nature DX 8×42 Binoculars. Featuring impressive specs and top-rated glass optics, these binoculars won't break the bank.
Fully multi-coated lenses boost contrast and resolution while BaK-4 phase coated prisms maximize light transmission. You can count on bright, crisp images no matter where you go.
The binoculars have an 8x magnification and 6.5 foot close focus allowing for viewing of details near or far.
Along with impressive power, these binoculars are rugged and durable thanks to their rubber-armored polycarbonate housing making them waterproof in the toughest of weather conditions.
For all your colorful outdoor adventures, choose Celestron Nature DX 8×42 Binoculars in a stylish Army Green color to enhance your experience and bring the scenes to life.
Pros
With Celestron Nature DX binoculars, you can now enjoy nature up close and personal. Its sophisticated lens design and quality optics make it ideal for wildlife enthusiasts, offering excellent views of birds, insects, and other wildlife.
The smooth focus adjustment allows you to easily zoom in and out to get the best viewing angle for far-away objects.
Additionally, the rugged rubberized housing protects them from damage as you take them out for your next outdoor adventure.
Celestron Nature DX binoculars combine portability with state-of-the-art features to give you crystal-clear images of the wonders of nature, all at an unbeatable value.
Cons
Although the Celestron Nature DX is a fantastic choice for nature observation, it does have some downsides. The biggest disadvantage is that its field of view is relatively small compared to more expensive models.
Additionally, the optics are solid but not quite as powerful as the most high-end binoculars on the market. Additionally, they tend to be weighty, making them unsuitable for long-term usage or if you plan on moving around a lot.
Finally, their design can sometimes make it difficult to use both eyes together when viewing distant objects.
Despite these minor inconveniences, though, most enthusiasts agree that the Celestron Nature DX is a great tool for bird and animal watching and makes a great entry-level option for beginners.
Best Cheap Binoculars Under $200
For those looking to explore the natural world without breaking the bank, binoculars can be a great purchase.
Fortunately, you don't need to spend hundreds of dollars for a quality pair of binoculars anymore; now, there are many options for finding high-performance binoculars at an affordable price.
Here we will look at some of the best cheap binoculars under $200 and examine what makes them worth considering.
From waterproof construction and wide lenses to clear optics and intuitive adjusting features, these binoculars offer unbeatable value and performance. If you're looking for a good set of optics on a budget, check out these models!
Nikon Prostaff 7S
The Nikon ProStaff 7S 10×30 Binoculars are designed to provide sharp, clear views with exceptional color reproduction even in low light conditions.
The Nikon ProStaff 7S combines 5-prism technology and multilayer coatings which ensure high light transmittance across the visible light spectrum.
With the advanced optical system and 30 millimeters of objective lens diameter, this binocular will bring distant objects 10 times closer to you while preserving their natural colors.
The black rubber face armor provides a secure comfortable grip allowing the user to stay focused on what's important, no matter the weather or environmental conditions.
Additionally, this compact binocular is perfect for hiking, camping, or bird-watching trips as it fits comfortably in your hand making it easy to take anywhere.
Plus, this bundle comes with a Focus Camera Binocular Harness and Nikon Lenspen Cleaning System. Be sure that your outdoor adventure is accompanied by superior optics when using the Nikon ProStaff 7S 10×30 Binoculars Bundle.
Pros
The Nikon Prostaff 7S is rapidly becoming a coveted model of binoculars within both the professional and amateur wildlife spotting community, and for a good reason.
The optics are superb with 10x magnification, multi-coated lenses, and a 50mm objective lens, providing crystal clear images even in low light conditions.
With lightweight yet durable construction and waterproofing that is ideal for outdoor excursions, this binocular also features turn-and-slide rubber eyecups for comfortable viewing.
Additionally, the price point of the Prostaff 7S makes it an accessible product that any budget can afford.
Cons
There are a few major drawbacks associated with the Nikon Prostaff 7S. Firstly, it can make unwanted noises during operation due to its low-quality materials.
Secondly, its low magnification power also limits its utility outside of short-distance shooting. In addition, the eye relief is too close for comfort, and some shooters experience eye strain after prolonged usage.
Finally, it lacks focus precision in comparison to its higher-end counterparts, making it more suitable for a novice than experienced shooters.
Ultimately, although the modest price may be attractive to budget-conscious buyers, there are better options available if you wish for an optimal user experience.
Best Cheap Binoculars Summary
If you're looking to take your hiking, bird-watching, or stargazing excursions to the next level without breaking the bank, consider investing in some cheap binoculars.
The right pair of binoculars can dramatically increase enjoyment and appreciation of nature, while distant magnifying objects up to eight hundred times their original size!
When shopping, keep an eye out for binoculars with lightweight construction frames and rubber armor coating that help minimize the impact if they are dropped.
Make sure lenses are multi-coated to reduce reflection and produce brighter images with greater contrast, even in low-light settings.
And remember, oftentimes, the higher magnification values you pay for come at the expense of image quality. To get top-notch results without spending a fortune, try picking up a pair of inexpensive binoculars today and discover nature all around you, never like before.
FAQs
Finding the right pair of binoculars to enjoy birding can be a tricky endeavor. There are so many different models available in various sizes, shapes, magnifications, and categories, among other things. That is why finding the best budget binoculars for that purpose is particularly important.
Luckily there are lots of different reliable brands offering high-quality binoculars at an affordable price without sacrificing performance or quality.
With enough research, an understanding of the factors to consider when buying them, and patience to track down deals, you might just find your ideal binoculars that fit perfectly into your budget.
Now, let's discuss some most frequently asked questions about the best budget binoculars for birding.
What are the best inexpensive binoculars for bird watching?
Birdwatching is an incredibly rewarding hobby, but it can come with a hefty price tag when it comes to binoculars. Fortunately, there are several binoculars available that are both cost-effective and quite good quality.
Generally speaking, the best inexpensive binoculars for bird watching come with magnification around 8x – 10x and objective lens sizes around 40mm and 42mm; the larger the objective lens size is, the brighter the image will be in low light settings.
Furthermore, a Porro prism type binocular is typically thought of as providing higher quality images than a Roof Prism type at substantially lower cost, making them ideal for those just starting out in bird watching.
With all those things combined, you can find excellent binoculars for bird watching without breaking your budget.
Is 8×42 or 10×42 better for birding?
Deciding between an 8×42 and a 10×42 binocular can be a difficult choice if you are an avid birder. Both magnifications offer distinct advantages depending on the environment that you will be birding in.
An 8×42 provides a wider field of view, allowing for maximum appreciation of your surroundings, allowing less time with your eyes off the avian activity near you.
A 10×42 magnifies images more than twice that of the 8×42, making them well suited for studies or birding from long distances. Ultimately, it is important to weigh the pros and cons to know which set best fits your needs and situation.
What magnification binoculars are best for bird watching?
Bird watching is a popular hobby for many people, and one of the main tools in a birder's kit is a good set of binoculars. When trying to pick out the best binoculars for bird watching, an important factor to consider is magnification power.
The ideal magnification for bird watching typically ranges from 8x to 12x or 10x to 32x zoom. Not only should the magnification degree be taken into account, but features such as construction material, lens size, type of prism used, and field of view should also be considered when choosing the perfect pair for your needs.
Investing in a high-quality binocular ensures that you don't miss details when spotting those elusive feathered friends!
What are the best binoculars for bird watching for beginners?
If you're looking at getting into the exciting pastime of bird watching, having a good quality pair of binoculars is essential.
When deciding on which binoculars are best for beginning bird watchers, there are a few features to keep in mind: magnification power, a field of view, size and weight, and clarity and color.
For most entry-level bird watchers, it is recommended to look for binoculars with 8×42 or 10×42 magnifying power. This will provide the ideal balance between magnification and field of view. Additionally, look for models that are lightweight so you can move around freely when tracking birds.
Lastly, always be sure to check the reviews to ensure you're investing in a binocular that produces clear images with true-to-life colors. With these tips in mind, you'll find yourself equipped with the perfect set of binoculars for your bird-watching adventures.
Final words
All binoculars on this list are great values and will help you enjoy birding on a budget. Do your research before purchasing to make sure you are getting the best deal for the features that matter most to you.
With so many options available, there is sure to be a pair of binoculars that fit your needs and budget. Thanks for reading, and happy birding!